---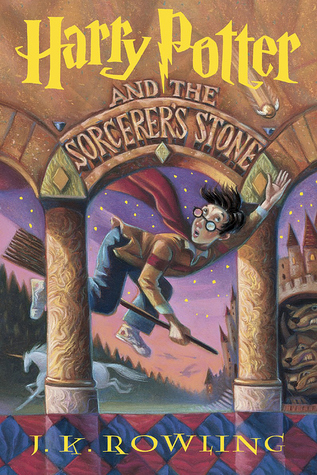 Harry Potter and the Sorcerer's Stone (Harry Potter #1)
Author: J.K. Rowling
Reading Level: ALL AGES
Genre: Fantasy Adventure
Released: June 26th 1997
Review Source: Scholastic Inc
Harry Potter has no idea how famous he is. That's because he's being raised by his miserable aunt and uncle who are terrified Harry will learn that he's really a wizard, just as his parents were. But everything changes when Harry is summoned to attend an infamous school for wizards, and he begins to discover some clues about his illustrious birthright. From the surprising way he is greeted by a lovable giant, to the unique curriculum and colorful faculty at his unusual school, Harry finds himself drawn deep inside a mystical world he never knew existed and closer to his own noble destiny.
What can I say, I love this book and this series. I remember hearing Harry Potter for the first time at my aunts house. Visiting for the summer, she bought a copy when it first came out (before everything blew up) and she'd read it to my cousin. I would listen, in awe, so enraptured by the story that when I went back home I begged my Dad for a copy. I finally got one, it was a paperback, I wanted hardcover, and I devoured it. I went to every midnight release of the book, preordered it and went to almost every movie opening night. The last two movies, I was living in China and couldn't see the movies until it was bootlegged.
Every time a book was about to be released I'd re read the previous book in preparation. Like a ritual, I re read every book and it was always so worth it. I hadn't read the series in a couple of years, and now just felt like the right time. My ADD and juggling books, I knew HP wouldn't snap me back to attention and I could sink into a good book again.
Am I a mega fan? Yep. I have my own home made Slytherin uniform, and I wear it…often. So yeah, any open ear I can get a hold of, should either have read the books and we need to talk about them accepting He-Who-Must-Not-Be-Named or Dumbledore into their lives. I joke, but seriously, it is a great series. Pick up a copy, join the magic.