---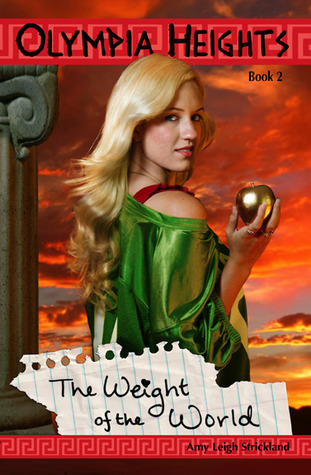 The Weight of the World
(Olympia Heights #2)
Author: Amy Leigh Strickland
Reading Level: Teen
Genre: Mythology
Released: June 14th 2012
Review Source: Matter Deep Publishing
Most teenagers just think they're immortal. Six months ago fourteen students at Olympia Heights Senior High found out that they really are. Now summer vacation has begun and everyone has far too much free time on their hands.

Hormones, tempers, and the temptation of godly power get stirred up by a suspicious new gossip blog about their little slice of the Miami Dade County. Soon this blog, called Discordia, has the members of The Pantheon pitted against each other. Impulsive teenagers with ancient abilities make for a lot of collateral damage.
I remember enjoying book one of the Olympia Heights series, but wasn't sure if I wanted to continue them. Mostly, I wanted to know more about Peter (of all the God's I love Hades). On good reads part way through I mentioned the drama was flying so fast it was like watching ping pong! There are a lot of main characters involved and as always it's so incestuous, but that's what we love about the Greek Gods.
Zach makes some changes and it's interesting to follow, June I don't recall being as big a player in this second installment, which I found odd, but she did start some interesting shit. I finally got some more Peter and Penny time, but not what I wanted or was expecting so while cool I was still left wanting more. The big baddies this time seemed like they fell from the sky outta nowhere, heh heh heh. It was adventure packed and drama filled! If this is what you like then perfect, pick up a copy. 🙂