---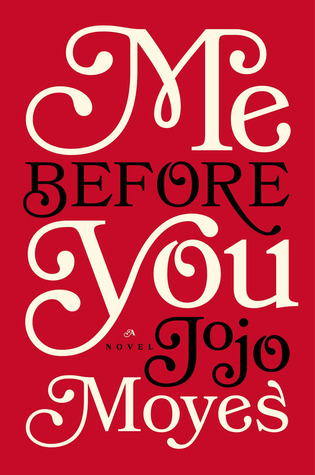 Me Before You (Me Before You #1)
Reading Level: Adult
Genre: Romance
Released: December 31st 2012
Review Source: Pamela Dorman Books/Viking
---
They had nothing in common until love gave them everything to lose . . .

Louisa Clark is an ordinary girl living an exceedingly ordinary life—steady boyfriend, close family—who has barely been farther afield than their tiny village. She takes a badly needed job working for ex–Master of the Universe Will Traynor, who is wheelchair bound after an accident. Will has always lived a huge life—big deals, extreme sports, worldwide travel—and now he's pretty sure he cannot live the way he is.

Will is acerbic, moody, bossy—but Lou refuses to treat him with kid gloves, and soon his happiness means more to her than she expected. When she learns that Will has shocking plans of his own, she sets out to show him that life is still worth living.

A Love Story for this generation and perfect for fans of John Green's The Fault in Our Stars, Me Before You brings to life two people who couldn't have less in common—a heart breakingly romantic novel that asks, What do you do when making the person you love happy also means breaking your own heart?

I borrowed this initially because I wanted to watch the movie, and I love reading. I had in mind that it would be touching, something like Tuck Everlasting that pulls the heart strings. To be utterly honest with myself and others, I might not always pick something like this up for myself. I might grab something similar but usually it has a touch of fantasy to it.
I really, truly loved this book. I read it within two days, no lie. Lou and Will felt absolutely human, real and tangible in their moments, in their wants and needs and it was so much more than I expected. I sincerely hope that Hollywood keeps to the book, not deviating even for a second to change anything. I am still trying to come to terms with having finished the story, and sort myself out with a fresh glass of much needed wine.
Thank you to the author, for this book and for opening my eyes to a whole new style of reading I eagerly hope to keep reading in (although I may need to buy tissues).
Not wanting to spoil it for anyone on the fence or about to read it, but I need to say it for myself. This hit a little close to home for me, and I can better understand the one I love in his moments of agony he suffered in the transition from who he was to who he is now. I still love him regardless, but I can better understand those moments thanks to the author and to Will. I feel akin to Lou in a sense because of those moments. I won't say any more, because spoilers really are the worst!